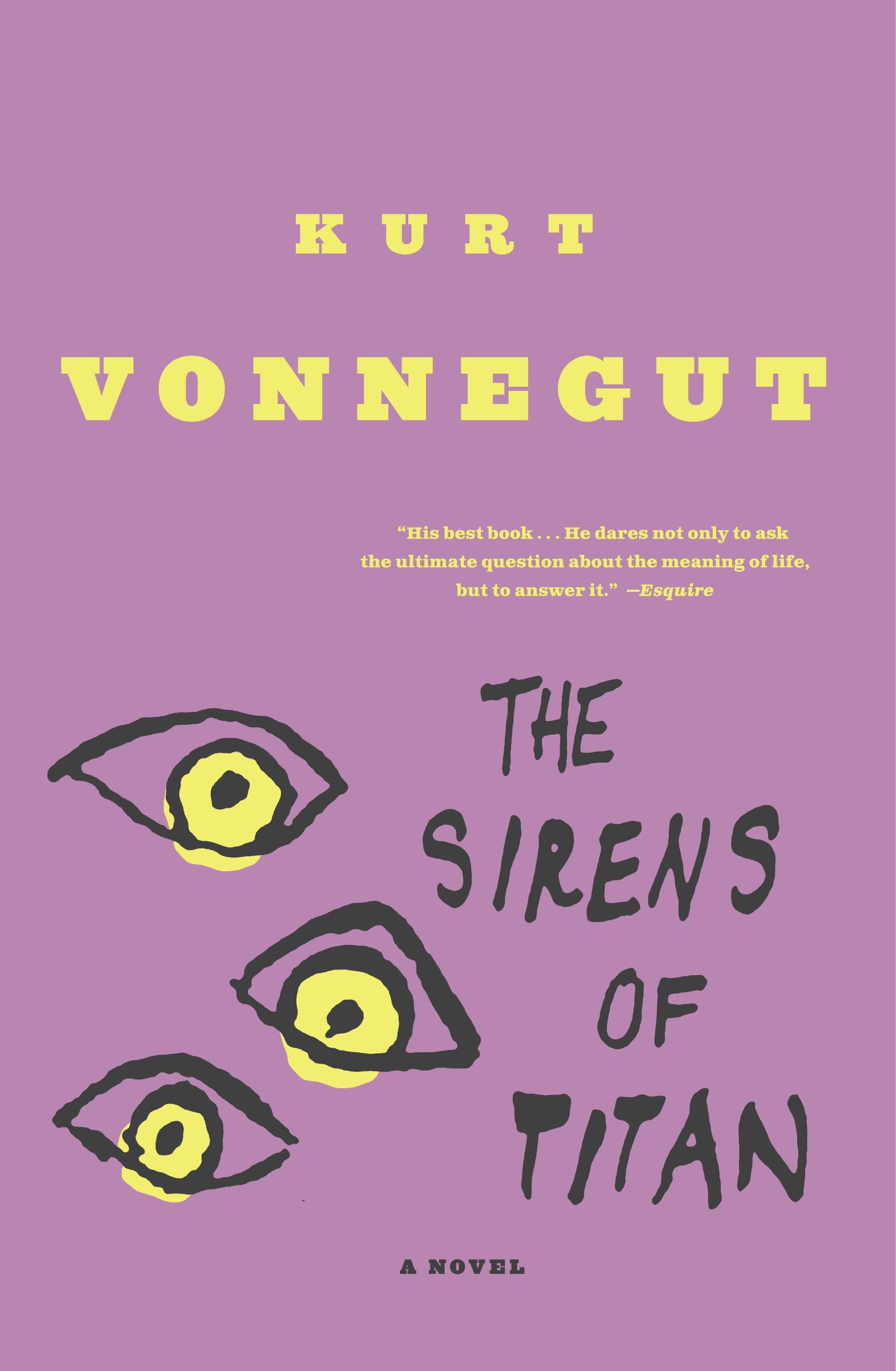 If you read my posts on this blog you might be wondering does he read anything but Vonnegut (see excerpt about the author below)? Most of my earlier posts had to do with non fiction and leaned towards a lot of self improvement stuff. More recently I have enjoyed escaping into Kurt Vonnegut's work, which in a way is both a joy but is not lacking in some pretty interesting lessons about humanity.
The Sirens of Titan by Kurt Vonnegut is both an interesting read or listen depending on your choice of formats. I listened to this book on Audible.com. This book centers around maybe a half a dozen characters with Malachi Constant also called Unch at times. Much of the novel is centered around an invasion of Earth from Mars orchestrated by the character Winston Niles Rumfoord. As with many of Kurt Vonnegut's novels he takes you on a bizarre journey that in the beginning is a bit difficult to understand, but as you read on he really develops some interesting themes and the character development is excellent. There is both a bit of humor at times and often times a feeling of sadness as some pretty horrific things happen to Malachi Constant and his family.
The audible version of this book is narrated by Jay Snyder and is 9 hours and 20 minutes in length. The paperback version is 336 pages long and available for $12 – $14.
Recommendation
If you choose the Audible version, you will really enjoy the narration by Jay Snyder, he does an excellent job, which is not easy when you read a Vonnegut novel. I have to be honest I was a little lost at times during the reading of this novel, but at the same time I was very interested in the characters and ultimately what would happen to them. Kurt Vonnegut has a real talent for character development delving deep into human behavior and psychology. Of course I liked it spending the better part of the weekend listening to it. This novel is both a great escape from reality and at times takes you on an emotional roller coaster.
If you would like to support this blog, you can purchase this book at:
eBooks.com

The Sirens of Titan
Excerpt about Kurt Vonnegut
Kurt Vonnegut Jr. (November 11, 1922 – April 11, 2007) was an American writer. In a career spanning over 50 years, Vonnegut published 14 novels, three short story collections, five plays, and five works of non-fiction, with further collections being published after his death. He is most famous for his darkly satirical, best-selling novel Slaughterhouse-Five (1969).
Born and raised in Indianapolis, Indiana, Vonnegut attended Cornell University but dropped out in January 1943 and enlisted in the United States Army. As part of his training, he studied mechanical engineering at Carnegie Institute of Technology (now Carnegie Mellon University) and the University of Tennessee. He was then deployed to Europe to fight in World War II and was captured by the Germans during the Battle of the Bulge. He was interned in Dresden and survived the Allied bombing of the city by taking refuge in a meat locker of the slaughterhouse where he was imprisoned. After the war, Vonnegut married Jane Marie Cox, with whom he had three children. He later adopted his sister's three sons, after she died of cancer and her husband was killed in a train accident.
Vonnegut published his first novel, Player Piano, in 1952. The novel was reviewed positively but was not commercially successful. In the nearly 20 years that followed, Vonnegut published several novels that were only marginally successful, such as Cat's Cradle (1963) and God Bless You, Mr. Rosewater (1964). Vonnegut's breakthrough was his commercially and critically successful sixth novel, Slaughterhouse-Five. The book's anti-war sentiment resonated with its readers amidst the ongoing Vietnam War and its reviews were generally positive. After its release, Slaughterhouse-Five went to the top of The New York Times Best Seller list, thrusting Vonnegut into fame. He was invited to give speeches, lectures and commencement addresses around the country and received many awards and honors.
Later in his career, Vonnegut published several autobiographical essays and short-story collections, including Fates Worse Than Death (1991), and A Man Without a Country (2005). After his death, he was hailed as a morbidly comical commentator on the society in which he lived and as one of the most important contemporary writers. Vonnegut's son Mark published a compilation of his father's unpublished compositions, titled Armageddon in Retrospect. In 2017, Seven Stories Press published Complete Stories, a collection of Vonnegut's short fiction including 5 previously unpublished stories. Complete Stories was collected and introduced by Vonnegut friends and scholars Jerome Klinkowitz and Dan Wakefield. Numerous scholarly works have examined Vonnegut's writing and humor.
https://en.wikipedia.org/wiki/Kurt_Vonnegut