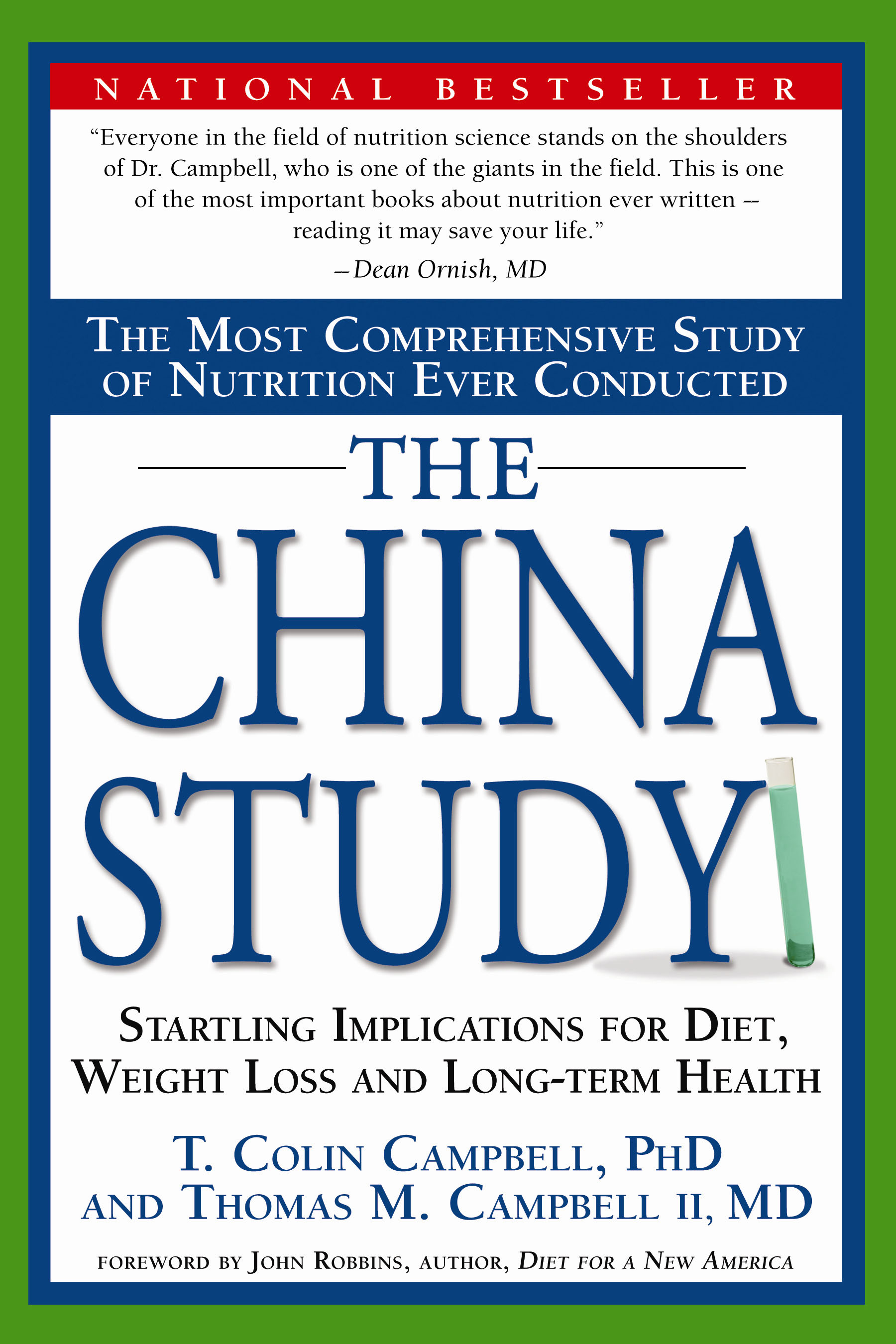 The China Study was written by T. Colin Campbell, PhD and Thomas M. Campbell II, MD. I'm sure many of you have read the Atkins Revolution, The Paleo Diet, or any number of diet books on Keto, or some other high fat or high protein low carb diet. This book is in sharp contrast to these other books and written by authors that actually studied nutrition for many years. This is not some fad bullshit diet as posed by some of these other authors that want you to put copious amounts of saturated or unsaturated fat into your body to lose weight. In fact this book is not about a diet for losing weight, although you probably would if you ate the way the authors recommend.
If you are looking to read a book about losing weight I would skip this one, but if instead you are interested in your health and understanding how real research and science was used to make a convincing case for a whole food plant based (WFPB) diet then I encourage you to pick up a copy. I read the first 4 parts of this book which was about about 235 of the 451 pages. The last 100 pages are appendices and references. The book reads more like a scientific journal on nutrition than you will find in some of the afore mentioned books written by the diet gurus.
I don't want to spoil it for you because I am not making any recommendations regarding how or what you should eat. I think reading the book will overwhelmingly convince you that we have been fed a lot of bullshit by the diet gurus like Atkins and even our own government regarding nutrition and diets. You will be shocked by the evidence presented in this book about the benefits of a whole food plant based diet versus a diet rich in animal proteins or fats. The fact based conclusions will make you think about what your eating and how it is affecting your health.
Let me state that I am not a vegan or even a lacto/ovo vegetarian. I am not here to admonish meat eaters or make some philosophical case for being a vegan. However I will tell you that this book has made me re-think a lot of things about my diet and the consequences of consuming animal protein, fat, and dairy products.
I highly recommend you spend a few dollars and go out and buy this book, unlike many other books on nutrition this one could have a major impact on your health and well being should you choose to implement the changes in your diet suggested in this book.
If you would like to support this blog, you can purchase this book at:
eBooks.com

The China Study
Audiobooks.com

China Study, Revised and Expanded Edition

If you are looking for more information on The China Study see the Wikipedia reference below:
The China Study is a book by T. Colin Campbell, Jacob Gould Schurman Professor Emeritus of Nutritional Biochemistry at Cornell University, and his son Thomas M. Campbell II, a physician. It was first published in the United States in January 2005 and had sold over one million copies as of October 2013, making it one of America's best-selling books about nutrition.[2]
The China Study examines the link between the consumption of animal products (including dairy) and chronic illnesses such as coronary heart disease, diabetes, breast cancer, prostate cancer, and bowel cancer.[3] The authors conclude that people who eat a predominantly whole-food, plant-based diet—avoiding animal products as a main source of nutrition, including beef, pork, poultry, fish, eggs, cheese, and milk, and reducing their intake of processed foods and refined carbohydrates—will escape, reduce, or reverse the development of numerous diseases. They write that "eating foods that contain any cholesterol above 0 mg is unhealthy".[4]

The book recommends sunshine exposure or dietary supplements to maintain adequate levels of vitamin D, and supplements of vitamin B12 in case of complete avoidance of animal products.[5] It criticizes low-carb diets, such as the Atkins diet, which include restrictions on the percentage of calories derived from carbohydrates[6] The authors are critical of reductionist approaches to the study of nutrition, whereby certain nutrients are blamed for disease, as opposed to studying patterns of nutrition and the interactions between nutrients.[7]

The book is based on the China–Cornell–Oxford Project, a 20-year study—described by The New York Times as "the Grand Prix of epidemiology"—conducted by the Chinese Academy of Preventive Medicine, Cornell University, and the University of Oxford. T. Colin Campbell was one of the study's directors.[8] It looked at mortality rates from cancer and other chronic diseases from 1973–75 in 65 counties in China; the data was correlated with 1983–84 dietary surveys and blood work from 100 people in each county. The research was conducted in those counties because they had genetically similar populations that tended, over generations, to live and eat in the same way in the same place. The study concluded that counties with a high consumption of animal-based foods in 1983–84 were more likely to have had higher death rates from "Western" diseases as of 1973–75, while the opposite was true for counties that ate more plant-based foods.[9]

Notes